CNJ Models in HO > Kitbashes >
Up | B and E series switchers | G3 Pacific | M2/3 Mikado | K1 and I5 camelback | RS3/RSD4-5 Alco switchers | Boxcab
K1 4-8-0 Camelback - by Robert McGlone
This is a brief synopsis of what I did:
| | |
| --- | --- |
| | The superstructure came from an old HO Train Co/General Hobbies zamac 4-6-0 (available for $25-50 on eBay, Steve). I had to do some filling of the invariable zamac rotting cracks (super glue followed by epoxy - works OK so far). Back of superstructure was adapted to the frame. Headlight built up into a simulated arc light. Air tanks removed. Extra details added and so on. |
| | The mechanism is from a Mantua 4-8-0. Cylinders are from a Bowser Pennsy H-10 modified to the slanting Brooks piston valve ones. There is a flat can motor with a homemade mount using the Mantua nylon gears. I should have used flanged wheels on the second driver set but for my 18" curves. That minimizes the 1st to 2nd axle gap and improves the appearance a lot. |
| | Tender is from the Mantua 4-8-0 loco. I originally used a Leetown white metal CNJ kit but that was a bit too new looking and a bit too heavy. Maybe in the future I'll consider a BCW resin body CNJ tender? |
| | Decals from Jim Wilhite jwilhite@netdirect.net to match circa 1910 prototype photos. |
Photos of Robert McGlone 's converted 4-8-0: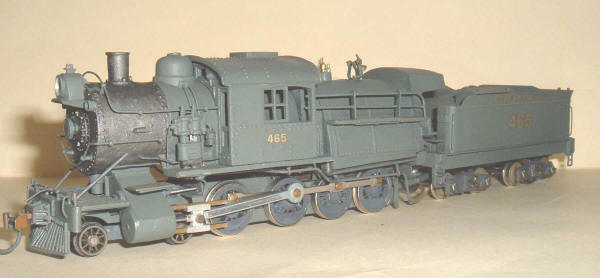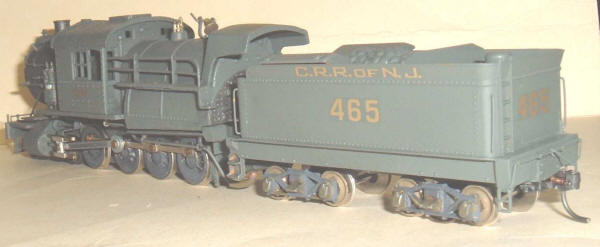 I-5 2-8-0 camelback - by Robert McGlone
Here's some more pictures of my finished circa 1908 Class I-5 2-8-0 camelback model, along with a brief synopsis of how to make one of your own.
| | |
| --- | --- |
| | The superstructure came from an old HO Train Co/General Hobbies zamac 4-6-0, commonly available on Ebay. Try to find one that's not cracked too badly. I had to do some filling of the common zamac rotting cracks (super glue followed by epoxy - works OK so far). Back of superstructure was adapted to the frame. The headlight is a drilled out Bittercreek Models soft white metal part that fits over the cast on headlight. Some extra details were added but not too many. |
| | The mechanism is from a Mantua 4-8-0. Modifying the mech was the hardest part of the job. The cylinders had to be moved back, the frame shortened in the front, and a short frame extension built for the back of the frame. The cylinders are from a Mantua Mikado modified to the slanting Brooks piston valve style. The motor is a standard Mantua using the Mantua nylon gears, although I have future plans to use one of the latest Mantua replacement can motors. I tried to use flanged wheels on the second driver set [they show in some photos but were later removed] but doing that resulted in some binding on my 18" curves. However, using the flanges minimize noticing the too large 1st to 2nd axle gap and improves the appearance a lot. |
| | The tender I finally settled on is from the Mantua 4-8-0 loco. I originally wanted to use the General Hobbies 4-6-0 tender but that was a bit too new looking and a bit too heavy for the loco. Maybe in the future I'll consider a BCW resin body CNJ tender but they are no longer available, so......? At least my two conversions have a family appearance with the same tender. |
| | Decals came from Jim Wilhite to match circa 1910 prototype photos. His decals were later purchased by La Belle Models after he died. |
| | This conversion was much harder to do than the 4-8-0 camelback because of the additional frame modifications required. |