Track Plans, Diagrams and Maps of the Lehigh Riverside area of old Mauch Chunk

This page shows source track diagrams, track plans, maps and satellite photo of Jim Thorpe / Mauch Chunk and also maps of the Lehigh Riverside are of old Mauch Chunk. The model track plan (see also the model track plan) is based on the 1905 track plan as modified by the 1924 track diagrams and some of the photos from Flagstaff Mountain (#000 series) which you can find in the Photo Archive.
The track diagrams (above left- c1925) were supplied by Tom Biery, the large track plan (above- 1905) by Richard Jahn and the smaller (left- pre-1900) track plan by Bob FIscher. See also the town plan below.
Thanks Guys - we couldn't have done it without you.



The town plan to the right gives more details of the buildings - especially in Susquehanna Street - although the track layout is either very old or just plain wrong.



A signalling plan was supplied by Frank Revitt and is shown to the right. This section includes both the station area (to the R) and the Mauch Chunk yard leading up to Nesquehoning Junction (to the L).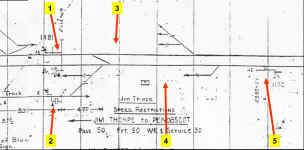 ...based on this plan, a close-up of the passenger depot area has been prepared - with numbers refering to the signals numbered on the signalling page.

For general interest we also include below a satellite photo and USGS map from the Terraserver site.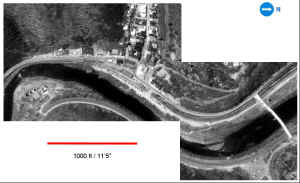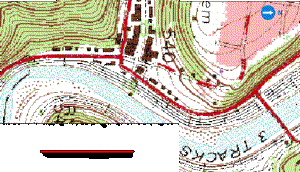 This image represents the most recent, working track plan (version 19) which is also found on the modelling pages.

The Lehigh waterfront area of old Mauch Chunk that we are modelling is shown on the plan below (The yard at the right has been compressed - see above, The Lehigh river is at the bottom of the plan. Other detailed town plans (below) are based on the Sanborn map.



Lehigh riverside area of Mauch Chunk in about 1930 (Sanborn Map).


Lehigh riverside area of Mauch Chunk showing showing which buildings from 1930 are still standing.
New buildings since 1930 not shown.