The CNJ Railroad in Mauch Chunk> Signalling | Operations | Locos in MC | Stories | other...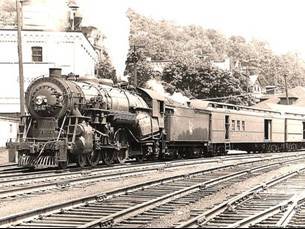 In Mauch Chunk the CNJ railroad hugs the west bank and the rival Lehigh Valley railroad the east bank of the Lehigh River. Both had passenger stations in Mauch Chunk although only the CNJ station remains.
The CNJ station in old Mauch Chunk was originally a through station for main-line expresses and a terminus for locals. It had a freight depot, a railroad office and a freight yard and it is at the South (Eastbound) end of an extensive freight yard (leading up to Nesquehoning junction).
In the late 1940s there was extensive coal traffic, general freight traffic and some passenger traffic. Before the introduction of cab diesel units in 1947, Mauch Chunk was the location for adding steam "helpers" to long freights heading West over the mountains. Coal trains were assembled for passage east. Further along (and just off the model to the right) is an engine facility with a turntable for yard switchers, locals and helpers. There's going to be plenty of prototypical action once we've finished.
There is extensive detail of operations and photos of the CNJ in Mauch Chunk on the Mauch Chunk pages of the Black Diamonds to Tidewater site of Robert Fisher and William Greenburg.
Paul Rice and Frank Revitt have provided us with details of operations and signalling which can be found on the associated pages. If you can provide us with more details, please contact us (see contact information below).

A

new print of CNJ/Mauch Chunk. Available from:
OUT OF THE BLUE II LLC
199 W Broadway Jim Thorpe Pa. 18229
(

tel.

570) 325-5571

- or click on the picture

The signed and numbered edition is limited to
400 prints @ $80., along with 40 artist proofs @$100.,

Click on the picture to go to the Out of the Blue website.