This first plan shows the latest version of our track plan (since early 2015). We have extended the footprint by building new fiddle yard boards and a centre well. The front boards have been shortened to 20ft (from 21ft), and narrowed to 4ft (from 5ft) but all of this now has scenery. There are now four 4ft by 4ft scenic boards in the centre and a 4ft by 2ft 6in board at the RH end and a 4ft by 1ft 6in board at the LH end. There is a four inch gap behind the back scene which is currently host to two tracks for DCC programming and checking locos in DC. The fiddle yard has five equal sized boards of 4ft by 34 inches. The overall size is now 27ft 6in by 9ft 2in. There are eight fiddle yard roads in each direction and the end curves will take all our stock easily.

This second image represents the previous track plan (up to early 2015) and baseboard configuration of our model. Both the scenic section and the fiddle yard were on the same boards and there were four pairs of 4ft by 2ft 6in boards in the centre, and a 5ft by 2ft 6in board at each end. The curves proved to be too tight for some of the stock, and four fiddle yard roads in each direction was not enough.:



The third image represents the prototype track plan and the modeled track plan (a slightly earlier version), showing how some elements have been simplified and compressed. Clicking on it will download a jpg file.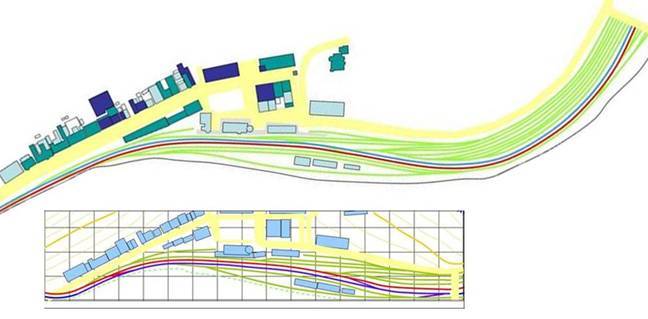 The fourth image represents the track diagram that we are using for the control panel - in the Big Bear software (free if only used for control panels). The buttons have been programmed to change switches for a whole route. We will be using two operators, one at each end: Both can use the same control panel from two laptops (or a laptop and a tablet) shared over wi-fi with Teamviewer (free version).