Diesel Locomotives > Up | Diesel Class | Paint Schemes
Diesel Paint Schemes> Tangerine & Blue | Green & Yellow
There were essentially five overlapping periods of diesel paint schemes on the CNJ. The variations apply almost entirely to the freight and passenger road switchers as yard switchers were basically painted dark green throughout the diesel period of the CNJ (basically 1940 - 1976).
In this brief summary of CNJ diesel paint schemes I will work through chronologically and will look into some of the oddities of interest to the prototype modeller. The dates given are the dates that locomotives were being painted in the respective paint schemes. Clearly many lasted much longer - for example, RS3 #1552 stayed in Period 2 paint scheme though until 1976.
Period 1: 1946 - 1950 Tangerine and Blue
Period 2: 1950 - 1962 Green and Yellow
Period 3: 1962 - 1969 Austerity Green - to be done
Period 4: 1969 - 1972 Blue and yellow - to be done
Period 5: 1972 - 1976 Red Barron - to be done
This diagram shows the duration of the paint schemes on different classes of diesel.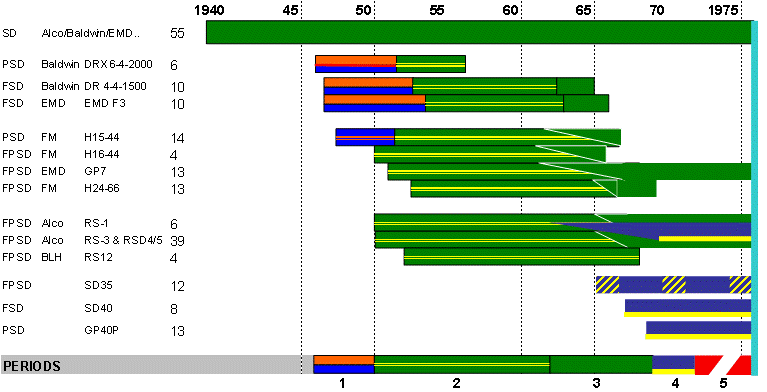 key: S - switcher; F - freight, P - passenger, D - diesels
This diagram has been assembled from several book sources - in particular "Jersey Central Diesels" by Gerard Bernet, and "Jersey Central Lines In Color, Volumes 2 & 3".