Buildings >
Up | Susq. Street | Navigation Bld. | Central Hotel | Court House | Wentz House | Monument | MC Iron Works | Railroad Bldg.s | Freight House | Station | Hooven Merc. | Dispatcher's Off.
CNJ Freight House - demolished now but still standing in the period we are modelling
Clicking on the description of the drawings will download a five page PowerPoint file with HO-scale drawings of all four sides of the building (for printing) and the photographs used as the sources for the drawing. If you don't have PowerPoint, you can download a PowerPoint viewer here. The evidence is clear for the S and W sides, but the E and N sides are slightly less clear. The row of high windows is inferred from dark areas on the photos and photo #613! Also see the photos for the roof detail - it changed through the years.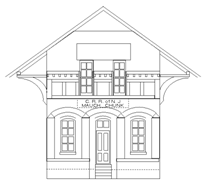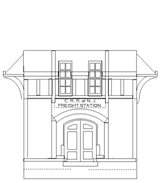 CNJ Freight House - S, W, E and N sides respectively

See the photos below for more detail:
#110: 19th c. #112: 19th c. #116: 19th c. #333: 19th c. #342:19th c. #407: 1909







#439: 19th c. #603: 1960s #613: 1950s? detail of #613 #632: 20th c.