Buildings >
Up | Susq. Street | Navigation Bld. | Central Hotel | Court House | Wentz House | Monument | MC Iron Works | Railroad Bldg.s | Freight House | Station | Hooven Merc. | Dispatcher's Off.
CNJ Passenger Station - still standing
Unlike all the other building drawings on the site, these have been carefully hand drawn from the original by Paul Rice of Downington, PA. These HO-scale architect drawings of the Station building in Mauch Chunk can be obtained by contacting him by email.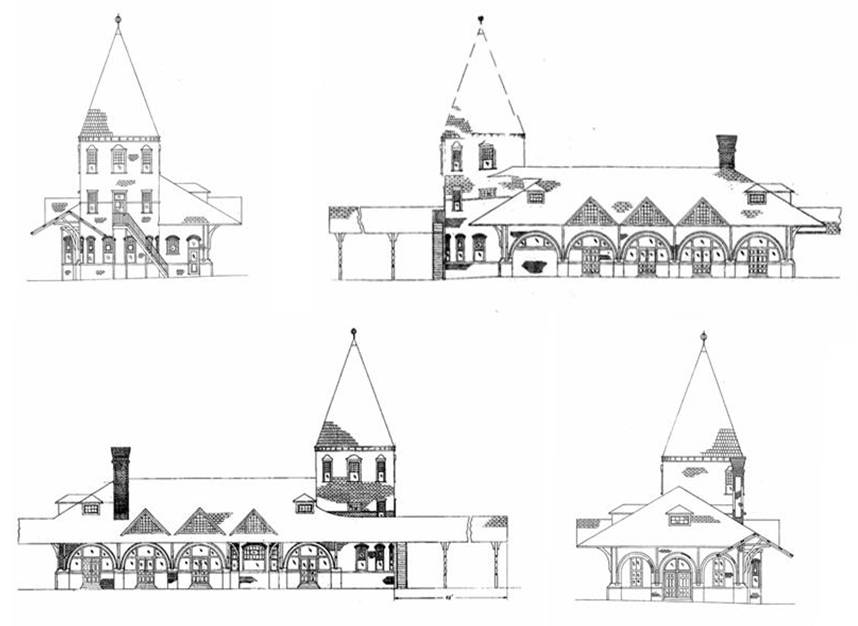 Alternatively, using photos taken of plans in the library in Jim Thorpe, Chris has drawn his own detailed set of plans in AutoCAD which we have converted to png files for anyone to use.
See the photos here for more detail (#414-437 taken for us by Kurt Jackson)
#342: 19th c. #401:1909 #402:1970 #403:1979 #404:1960s






#405:1992 #406:recent #407:1909 #408:1996 #409:1996 #410:1996







#411:1996 #412:1996 #413:1996 #414:2002 #415:2002






#416:2002 #417:2002 #418:2002 #419:2002 #420:2002






#421:2002 #422:2002 #423:2002 #424:2002 #425:2002






#426:2002 #427:2002 #428:2002 #429:2002 #430:2002






#434:2002 #435:2002 #436:2002 #437:2002 #438:19thc






As modelled at end 2008