Buildings >
Up | Susq. Street | Navigation Bld. | Central Hotel | Court House | Wentz House | Monument | MC Iron Works | Railroad Bldg.s | Freight House | Station | Hooven Merc. | Dispatcher's Off.
Navigation Building - still standing
Clicking on the descriptions of the drawing will download a two page PowerPoint file with an HO-scale drawing of the building (for printing) and the detail photographs of the building. If you don't have PowerPoint, you can download a PowerPoint viewer here. Much of the detail has not been drawn and modellers should refer to the detail photos for this - and the source photos below. The page size of the PowerPoint file is also much smaller than the drawing and you will have to move the drawing around and print it in three parts.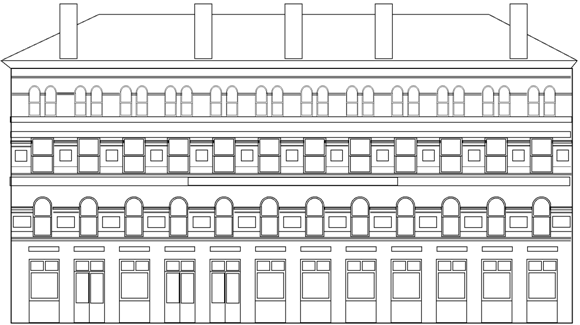 Navigation Building East side

See the photos below for more detail:
#301:1979 #302:1940 #303:1979 #304:1979 #306: 1900s






#310:1996 #320:2002 #327:2002 #334:19thc.? #339:1900s